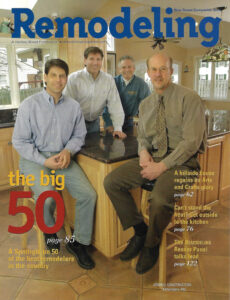 Jendell Standard of Excellence
Complete Design Build Services
The Magical Mystery Tour
Committed to Exceeding Expectations
The Jendell Standard of Excellence
Our goal is to provide every customer with superior customer service and to create open communication lines between everyone involved in your construction project. We are personally involved with every job, where we effectively combine our hands on, hometown approach with the latest technology. Our sophisticated computer system generates detailed designs/drawings in the preliminary phase of the project and later aids us in project management. On-site supervisors at each job ensure that all work performed meets Jendell's standard of excellence. Dressed in their company-issue jackets, hats, shirts, and sweatshirts, all employees are easily identifiable on-site.
Complete Design Build Services
We have found that bringing along our in-house architect and sitting down for "kitchen table" discussions at prospective clients' homes helps build a sense of teamwork for all concerned. Meeting at Jendell's office, customers are quite pleased to find that for their convenience, it includes a show room, where they can pick out carpeting, and cabinetry, etc. all at once.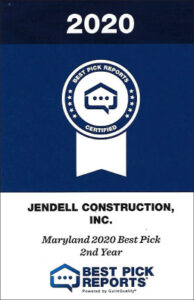 By working from start to finish with each client, Jendell strives to create design plans that fulfill their customers' specific needs and desires…then make them a reality.
The Magical Mystery Tour
On every level — and even literally — we go much further than the extra mile for our clients. In fact, many of our customers board the Jendell Magical Mystery Tour, a driving tour of past and present Jendell job sites. Seeing Jendell's live portfolio helps provide similar-scope models — and fuels ideas. Customers also tend to feel more at ease after viewing completed work.
Committed to Exceeding Expectations
One of our customers was an expectant couple who had moved into the basement of their house so that Jendell could completely renovate, and rebuild their home with extensive additions. A massive undertaking, the project was on track in time for the baby's arrival — until the baby came two weeks early. Asked by the frantic new father if it was possible to finish the top floor of the house, we were able to revise the project plan. Working around the clock and over the weekends with extra crew, Jendell made sure that the new mother and baby were able to come home to new bedrooms.